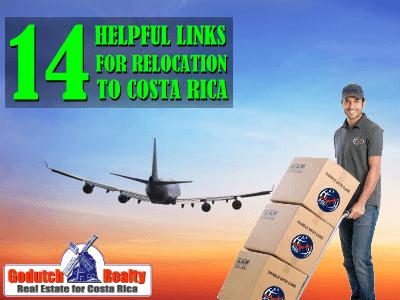 Here are on this page, I've tried to give you helpful links to relocate successfully to Costa Rica. This information can assist you incredibly when looking for a certain service or assistance.
When you move or retire here, there are a million things you need to think about and a million connections to get everything done. Information about Moving, Living in, Working in, and Retiring in Costa Rica.
Therefore, if you purchase through one of our GoDutch Realty area specialists, our agents will help you with many things. But to make it easier on you, you can do your due diligence before you even come here.
Therefore, we have put this list of helpful links together for you. In other words, here are some helpful links to relocate to find important information about moving to our country, such as Residency, Utilities, Banking, and Employees.
1. Arrive
International Flight Info – arrivals and departures

2. Live legally
Obtain Residency and relocate successfully:
3. Rent or buy Property
Don't make any mistakes renting or buying and relocating successfully. Above all, use the GoDutch Realty services for that.
3. Move Here
Move to paradise with the assistance of the right people and relocate successfully.

4. Phones
You will need a phone to relocate successfully:
Learn all you need to know about having a phone here. This article also shows all your options for phone companies.
5. TV
If you like to watch TV, you're kind of stuck to acquiring a combined TV and Internet package from a Cable company. Only Sky TV doesn't have internet services, but all the others do. Therefore, you want to compare the following companies:
6. Internet
After that, you must also learn all you need about Internet Services.
7. Home Inspection
There are not many home inspectors. Here is one with building experience abroad.
8. IRA & 401K
Did you know you can use your IRA or 401(k) to buy a property in our beautiful country? Learn all about this here.
This company can assist you with your property purchase:
9. Mail Services
Wherever you are going to live, the mailman will probably not deliver at home. Learn more about how to get the mail when moving now.
There are a few mail services available in Costa Rica. For instance:

10. Your Pets
We have plenty of stray pets. However, you might want to bring your own:
11. Hospitals
If you're a legal resident, you can access the CCSS hospitals and Ebais; check here.
We now have quite a few private hospitals. For instance:
In addition, if you need an ambulance, call 911 or read this article.
12. Photography
Any photography that you need- drone – virtual tours. Or use a local photographer to receive you at the airport where you'll start your new adventure, for example.
For instance:
13. Recommended Governmental Sites
You can hire a lawyer to assist you with most of your legal needs. However, here are a few governmental sites that might be useful:
Residency – Immigration – Direccion General de Migracion y Extranjeria go here.
Driver's License – Validation of Driver's License based on a Foreign License – click here (use Google translate)
Requirements for New Driver's License and Renewal – click here.
Homologation Process University/College Degree – click here

14. Embassies
Above all, you don't want to run into trouble. But if that happens, here are a few embassies you might need:
15. Where to Stay
These are trusted places for you to stay while shopping for a property with our clients
I hope you enjoy these Helpful links to relocate to Costa Rica tremendously!