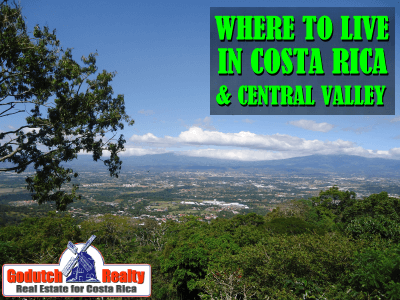 You don't know where to live in Costa Rica? Then we can also help! Really, the best way to find out where to live in our beautiful country is to follow these 20 steps, I'm sure it's helpful.
But what can we, at GoDutch Realty do for you? Well, a lot. We are real estate experts. Feel free to surf around for property in the Central Valley.
The right place where to live in Costa Rica depends entirely on you. On your weather preferences, the amenities you need, the view that you want, etc., etc. Those amenities, amongst others, could be churches, hospitals, schools for the children, golf courses, restaurants, specialty stores, movie theaters, and theater groups.
To give you a hand with the availability of these amenities, read Ivo's blog. If the beaches are your preference, go here.
The weather
Since each area of our country has its own microclimate, it is necessary you learn more about this topic before making a decision. A lot depends upon where you are from; when you come from a cold climate, you like warm weather and when you come from a hot one, you like cool weather. The temperatures at the beaches are always high, and the Central Valley offers a variety of microclimates. Below, I will describe a little of each area so you can decide where you prefer to.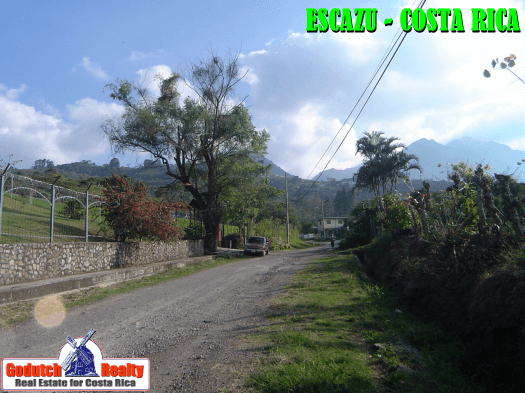 Downtown San Jose
San Jose is the capital city of Costa Rica but doesn't offer much besides some good museums, the Teatro Nacional, the Teatro Melico Salazar, and a few private theaters. One thing is certain, there is no comparison to Paris, London, or New York. You don't want to live in downtown San José.
There are some interesting parts for those looking at living in San José. There are quite a few suburbs that you could look at:
West: Sabana, Rohrmoser
North: Tibás, Moravia, Guadalupe
East: Curridabat, Dent, Escalante, Zapote, and others.
I did an article for our MLS that explains all you need to know about all these areas, read it here.
Westside of the Central Valley
There are several towns on the west side of the Central Valley where you will find all the necessary amenities a foreign resident would look for. If you are searching for where to live in Costa Rica, you will find a big help in your research by clicking on each link below:
Escazú
Escazú is historically where most ex-pats have lived because the climate is mild. Now, you will find a more urban town with shopping malls, and banks and wining and dining is best there. The CIMA private hospital is in Escazu.
Santa Ana
Santa Ana is growing fast, but downtown Santa Ana is still a very small town and picturesque. Just outside the older town area is the Lindora area with plenty of strip malls. There is wining and dining everywhere. The Clinica Biblica private hospital is in Santa Ana.

Ciudad Colon
Ciudad Colon is still very rural, but highway 27 to Caldera will eventually change that too. The town is only 15 minutes away from major shopping but has its own grocery stores and other amenities.
Cariari
The Cariari is a golfer's paradise, located between the airport and San Jose. A master-planned where you'll find beautifully tree-lined streets and sidewalks where you can jog or walk your dogs.
San Antonio de Belen
San Antonio de Belen is located very close to Cariari and the International airport. A small town with all you need, with its own shopping in a quiet, picturesque town center.

Atenas
The quaint town of Atenas is one of the most attractive areas for those looking for a laid-back lifestyle. Atenas is between Alajuela (International airport) and the Central Pacific. It offers the most necessary shopping and banking. Life is pretty easygoing here and retirees love the temperatures and the easy-going lifestyle.
Grecia
Grecia is not as small a town anymore as it used to be and has grown into a real city. The town has different microclimates, depending on the altitude.
There is also pretty good shopping, some malls, and movie theaters, and is known for its unique church, which is made entirely of pre-fabricated steel plates painted red. The park, in front of this church furnished with church pews and chairs, is a very nice meeting area for locals and foreigners.

Naranjo and Sarchí
Naranjo, as well as Sarchí,  are well-known coffee towns and will give you both a very local flavor. They are both communities that cater to the local residents.
It's not necessary to bring a ton of money when you want to buy a home in the Central Valley. We certainly hope that this page is of some assistance to find out where to live in Costa Rica. Ask a GoDutch real estate agent for more information on each area or any property for sale that interests you, contact us now.