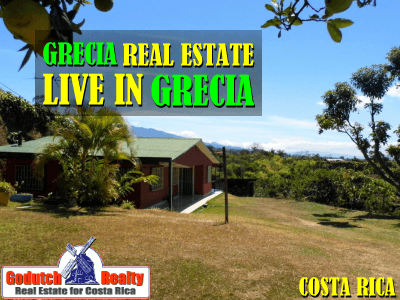 You've landed here because you want to live in Grecia or you are looking for Grecia real estate in Costa Rica for sale. And you found the best company to represent you.
Do you like living in a small city with no high rises? Streets you can still walk and parks you can sit in? And the air that you can still breathe? That's what you'll get when you live in Grecia.
Grecia is the first city you come to on the Pan American highway (Highway 1) after the airport going west toward Puntarenas. Located about 10 minutes off the Pan American highway, it is only 20 minutes from the International Airport.
It is also only just over one hour to the Central Pacific coast area, Jacó Beach, and Hermosa Beach. Surfing is great there. Grecia is also located very close to Alajuela, the city is growing rapidly and has the amenities to show for it. That's why you'll love to live in Grecia!
A clean city
The quality of life is one of the things that make this city special in this area. Grecia has been known as the cleanest city in Latin America for three years in a row, and the residents are famous for their friendliness.
The majority of "Griegos" are farmers. Sugar is the main crop here, closely followed by coffee, and vegetables. The city covers a huge area, it is one of the largest counties in the Central Valley and has many different altitudes ranging from 2800 ft to 5000 ft. If you sit in the park in front of the famous metal church, you will see farmers gathered talking about the price of sugar or cabbage, and kids playing and eating ice cream.
Shopping
It has a very successful outdoor market (Mercado Municipal) for fruit and veggies, meat, cheese, and fish. Or you can go to the Feria del Agricultor. Shopping in Grecia is not as great as in Escazu, where you can find fancy articles and up-to-date fashion stores, but it offers all your lesser fancy needs that you will be looking for if you like the laid-back lifestyle of living in Grecia. Grecia is the most cosmopolitan of all the small towns west of the Central Valley. Grecia features two malls.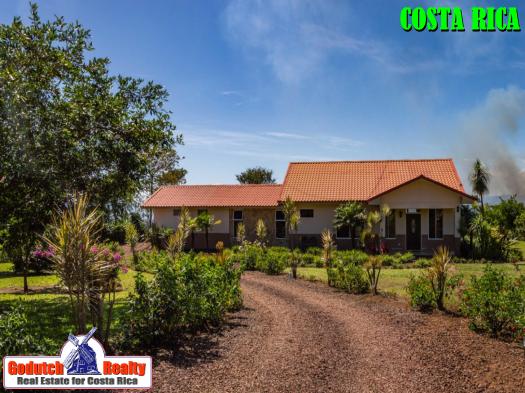 Many expats
Because of the large foreign population, there is an excellent selection of properties for sale, and shopping for a nice property is something you will enjoy very much, I will make sure of that.
Renovated homes in Grecia, coffee plantations, as well as high-end North American built estates, are some of the properties that can be found here. Great opportunities exist for all budgets; you can still get bargain prices for homes and land.
More Amenities
Each mall in Grecia has its own movie theater and various restaurants. There is an abundance of restaurants. These range from Steakhouses to Chinese food and of course Tico food in the restaurants makes this an excellent area for socializing.
There is a hospital right in the center of town and you'll find pharmacies all over. Are you religious? Then you'll also have plenty of options to go to religious services in Grecia.
Look for fitness clubs and the Tennis Club in Grecia or courts in Montezuma.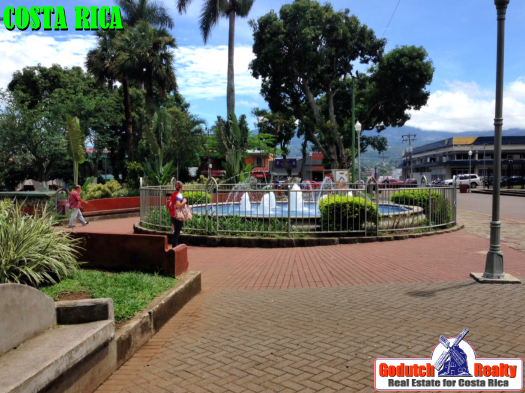 You can also find lots of live music at the various bars on the weekends. Artist fairs are found in the park on many weekends. Many social groups based on ex-pats have evolved throughout the last couple of years, so there is a good opportunity to socialize. Bilingual doctors, dentists, and lawyers abound; this town is very foreigner-friendly.
Did I give you enough reasons to live in Grecia? Then you can contact our agent now. Good luck with your search for the property of your dreams!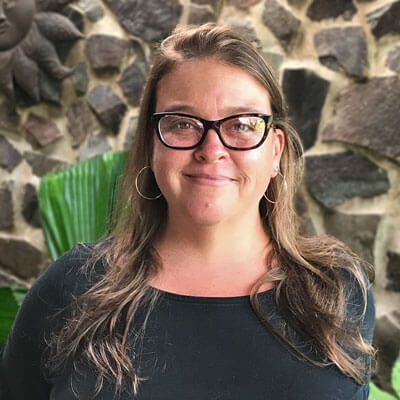 Brooke Bishop
GoDutch Realty agent for
Naranjo – Grecia – Sarchi areas
Learn here who you will be dealing with and what Brooke can do for you.
If you have any questions about Grecia and the surrounding areas, feel free to contact me.
Grecia real estate agent Brooke Bishop – GoDutch Realty