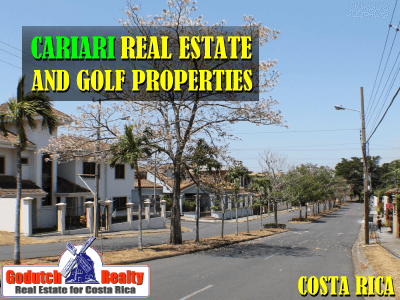 You've landed here because you want to live in Cariari or search for real estate in Cariari, Costa Rica. That's because you found the best company to represent you. Cariari is a master-planned suburb and offers a great lifestyle for golfers and families with kids. Therefore, buying a home here is probably a good idea if you play golf or have children.
Ciudad Cariari was born about 40 years ago when some astute businessmen met to do business. They decided to buy 100 hectares of some of the most exuberant plantations of coffee around. This location was just seven miles away from the capital San Jose and under the jurisdiction of the nearby city of Belen. At that time, Belen was no more than a small town.
The real estate developer subdivided and master-planned the property into roughly 600 construction lots, now most with houses. The community has different subdivisions:
Bosques de Doña Rosa is the largest,
Doña Claudia,
and Residencial Los Arcos.
Why live in Cariari?
If you are looking to retire or live in this beautiful master-planned community, you will find
the best climate in the world,
a location that is close to an international airport,
the best golf course in Central America, international golfers love it!
also a pleasant, quiet, and one of the safest communities in Costa Rica,
offering the best amenities that you can imagine,
Golf course
The Country Club was the first to build a golf course in Costa Rica. The design and construction of the golf course by Tom Fazio. Mr. Fazio was, at that time, a virtual stranger. But, he built what is undoubtedly the best golf course in Central America.
As a result, around this wonderful golf course, a whole development has grown to include two thousand very exclusive and luxury homes. We have had clients visit from California and other places in the world, who don't even live in Cariari, just to play golf here, and have loved our Tom Fazio course.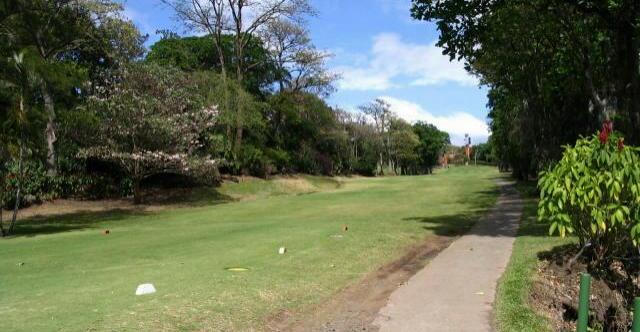 Bosques de Doña Rosa
Most homes in this part of the community are quite upscale. The beautiful Bosques de Doña Rosa subdivision offers wide and well-maintained avenues with beautiful trees that take you from one end to the other. There are also many small streets and dead-end streets to give total privacy to all the people who live in Cariari. This prevents traffic from going to all parts.
There are park areas everywhere and the streets have sidewalks. This is another very rare problem in most of the country. Controlled access makes the neighborhood completely safe for those who like to walk or jog. Therefore, traffic noise is simply not there, which is very rare in our country. Bosques de Doña Rosa and Los Arcos are among the safest communities west of San José.
The other two communities, Doña Claudia and Los Arcos are much smaller.
Amenities
The nearby city of Belén has now become an enviable city with 20,000 inhabitants. La Contraloría General de la República has elected Belén as the best municipality in Costa Rica for three consecutive years. Therefore, the Intel company, with its 3,000 employees, has made its home there.
The area can now boast of having many hotels, including a Hilton, and several established B & B's, as well as the largest Convention Center in the country.
Your children will be welcome at the "American International School", located in the community. This international school was founded in 1970. Teaching is in English, and you can find more info on AIS's website.
For those who like to have their grandchildren visit, only 15 minutes away is the largest amusement park in the country, El Parque de Diversiones. Also, the popular Ojo de Agua public pool is very close.
The Airport
Ciudad Cariari is located just off the highway that connects San Jose with the international airport Juan Santamaria (SJO). It is also close to Alajuela (the second-largest city in the country) and Heredia (the third-largest city). Therefore, it's a great idea to live in this community if you travel a lot.
The climate
The weather is similar to the weather in Atenas, which is claimed to be the best in the world. Being in the Central Valley, the area has ideal spring-like weather all year round. These are also perfect temperatures for a round of golf from January to December. For a golfer, it's time to die.
Ready to purchase or rent Cariari Real Estate? Then contact Shell Johanson now, he is the expert in this part of the country.