Are you looking to live in the beach areas of Costa Rica? Of course, we can assist. GoDutch Realty is a member of the American European Real Estate Network, with affiliates in every beach area of the country.
But allow me to tell you a bit more about the lifestyle you will find when you live in the beach areas.
Each of our beach areas has its own typical laid-back lifestyle. Life on the beach is a lot more relaxed but more expensive than it is in the Central Valley.
It is important you learn all you can about where to live before moving to a beach area. Beach life in Costa Rica is very different from beach life in Florida, California, or other places in the world. We do not have such large cities as you'll find in other countries, so the amenities offered are not the same. So do your due diligence before you buy beach property.
Amenities
Therefore, if you'd like to enjoy living on the beach, you will not be able to enjoy the same amenities as the Central Valley has to offer. I'm now talking about
Large shopping malls,
Quality hospitals,
Choice of schools for the children
Golf courses
Churches
Movie theaters (in some areas)
Museums, art galleries, and exhibitions
and other important amenities to some. Some beach areas, for example, do have a golf course, while others don't. Therefore, it is very important you first find out if living on the beach is for you or not.
Read more about living on the beach in Ivo's blog.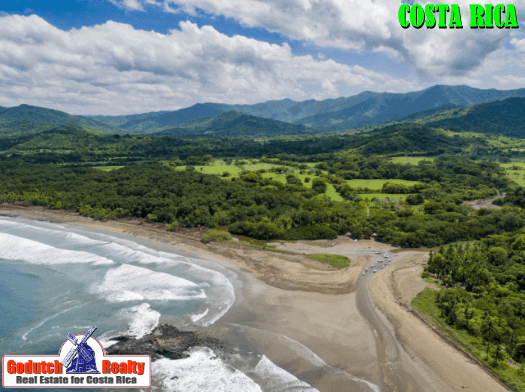 Climate and temps
When you live on the beach in Costa Rica, you will also need to learn about the micro-climates in each area. The climate and temperatures in the beach areas are very different from the Central Valley. The rainy season is, for example, quite different on the Caribbean side than it is on the Pacific side.
Where?
Just saying you want to live on the beaches of Costa Rica is not enough. We have over 750 miles of coastline. So you have plenty of choices:
North Pacific = Playa Panamá – Hermosa – Playas del Coco – Potrero – Flamingo – Brasilito – Tamarindo – Langosta.
Nicoya Peninsula = Nosara – Guiones – Samara – Santa Teresa – Mal Pais – Cabuya – Montezuma – Tambor.
Central Pacific = Bajamar – Tarcoles – Punta Leona – Herradura – Jaco – Hermosa –Esterillos – Bejuco – Palo Seco.
South Pacific = Quepos – Manuel Antonio – Dominical – Uvita – Ojochal – Coronado.
Caribbean = Cahuita – Puerto Viejo – Cocles – Punta Uva – Manzanillo.
Go Dutch Realty offers the services of a large team of real estate agents throughout the Central Valley. We do not service the beach areas. But we have the necessary experience to guide you through the process and can hook you up with the right agents in any of the beach areas mentioned above..
If would you like to know more about where to live on the beaches, then contact us now.