You've landed here because you want to live in Atenas, Costa Rica, and you are looking for Atenas real estate for sale and for rent. And you found the best company to represent you. We are the Atenas experts since 2005, much longer than any other real estate agency in this small little town.
Once you live in Atenas you will be able to enjoy the best climate in the world, and that is a fact. But how do you get started to find your home in the best climate in the world? It's simple: contact a GoDutch Realty agent.
Isabelle Jones was the first GoDutch Realty agent in what was in those days a tiny little town on the road from San José to the beaches of the Central Pacific. Isa and her husband Howard retired here with their son Taylor. But she got bored soon and represented our company when there was only one other real estate agency in Atenas. Isabelle was replaced by Marian Veltman when she retired in 2015. Since then, Marian, who had already been there for several years has been representing our colors in this small coffee town. In 2021, Myriam and Didier joined Marian.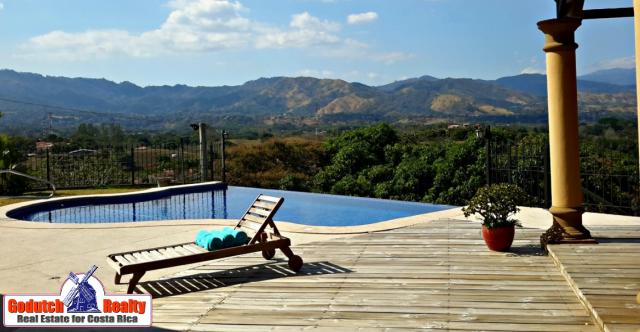 Views, views, and more views
One of the greatest benefits of living in Atenas is that you can enjoy a glass of wine while sitting at your swimming pool or on the patio and watch the fabulous views of the surrounding mountains or the valley in the company of family or friends.
Ranch style homes
Another great benefit is the ranch-style homes. About 70% of the homes are designed single-story for easy use and cleaning. Most people who retire to this great town are retirees, so they prefer living in a single-story home.
The covered terraces and decks are perfect for entertaining. Therefore, it's easy to enjoy the ideal climate and eternal spring when you are retired. Oh, and you'll love not having to put snow tires on your truck to drive these beautiful hills.
Many also have a guest house, so you can keep your privacy, from visiting guests and family.
Where
The small town of Atenas is located 20 minutes west of the International Airport Juan Santamaría. It's very accessible by highway 27 which can take you to San José or the Central Pacific beaches.
Highway 27 will allow you to get to the CIMA or Clinica Bíblica private hospital in 30 minutes, depending on the time of the day. Multiplaza Escazu, Alajuela City Mall, movie theaters, bowling, and other amenities are very accessible.
20 km (12 miles) from the International Airport,
35 km (21 miles) from San Jose
and 50 km. (30 miles) from the gorgeous Central Pacific beaches.
Beach
If you are a beach lover, you do not have to buy an expensive beach house. You can live in Atenas and just go to the beach every day as the drive is only 45 minutes to an hour.
Gated communities
There are several gated communities, built by foreign investors who saw the need for planning ahead, where you can live in a secure place and spend your days traveling without any problems.
Feeling welcome
The locals are so warm and friendly making you feel welcome in your "adopted" country. Although many speak English, you should make the effort of learning Spanish, just as being a respectful guest of the country.
Leisure and entertainment
If you enjoy hiking, biking, swimming, bird-watching, golf, or yoga, you'll never be bored again in your life. It's all right there, you don't ever have to leave your hometown again.
Golf
Those who love to play a round of golf will love it here. You'll have easy access to
Do you want to live in Atenas and rent or buy Atenas real estate? Then contact us now, we're the experts.